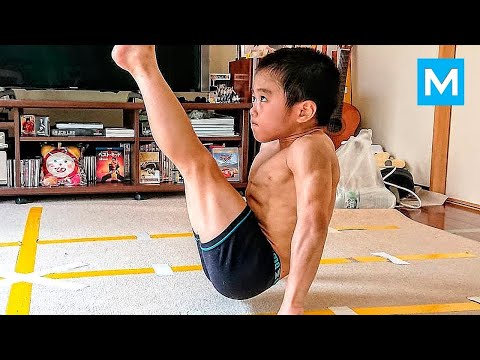 Even though Ryusei Imai is only 10 years old, he has some impressive skills that will leave you speechless for sure! Despite he might seem like a sweet innocent little baby, as soon as you'll witness his abilities you will probably question your own martial art career (I surely did).
Ryusei's biggest inspiration and idol is, of course, who else if not Bruce Lee himself.
This video was uploaded by Muscle Madness - a channel which has some great and inspiring content. Feel free to give it a look!
The Legend of Ryusei Imai
Ryusei is an extremely talented japanese youngster who's main idol is Bruce Lee. Ryusei's parents noticed their son's incredible talent already in the far 2015 when he became viral thanks to his Bruce Lee-like performance with Nunchaku. He took internet by the storm and he quickly became a national treasure in his country, Japan.
At the early age of 5, Ryusei appeared in the American Show "Little Big Shots" where he performs in gives his audience, as usual, the absolute best. If you'd like to, you can see the entire video on Ryusei's Instagram Page.
Bruce Lee used to say "don't think, feel" and Ryusei's father knows exactly what Bruce referred to when looking into his son's eyes.
He is already a bright star on the internet and his future in Hollywood will be for sure even brighter. However, Ryusei's parents declared that there's no pressure on him - it's all just fun and games.
But it's not only about his skills, his physique has intrigued many, both on the internet and in the school. Ryusei said that whan he is changing for a P.E. class, his classmates compliment him a lot, and there's no question why!